Professional Electrician in Goderich
---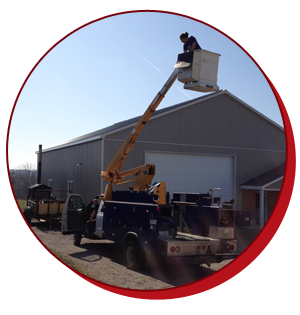 For all your electrical needs in Goderich, trust JD Electrical and Controls LTD. As a professional electrical company, we offer reliable and comprehensive electrical services for residential and commercial properties. Count on our experienced electricians to provide expert solutions tailored to your specific requirements.
JD Electrical and Controls Ltd. is here to serve you with all the electrical services you require in Goderich. We specialize in agricultural, residential and commercial sector jobs. You can count on us if you need a full service electrical contracting company for either new development or repairs.
Working with electricity can be a dangerous job and our electricians are fully trained and licensed in all safety certifications. Safety is a top priority for our electricians - in every job we do. If you are planning to attempt an electrical job yourself instead of hiring a trained professional, it is important to know some basic safety information.
Expert Electrical Services in Goderich
At JD Electrical and Controls LTD, we specialize in providing expert electrical services to meet your needs. Our team of skilled electricians has the knowledge and experience to handle a wide range of electrical projects. From electrical installations and repairs to troubleshooting and upgrades, we deliver reliable and efficient solutions for your electrical systems.
Residential Electrical Solutions
We understand the importance of a safe and functional electrical system in your home. Our residential electrical services cover everything from electrical panel upgrades and rewiring to lighting installations and outlet repairs. Whether you need assistance with a small electrical issue or a major renovation project, our electricians are ready to help.
Commercial Electrical Services
For businesses in Goderich, we offer comprehensive commercial electrical services. Our electricians are equipped to handle electrical installations for new construction, office renovations, and retail spaces. We also provide routine maintenance, electrical system upgrades, and energy-efficient solutions to ensure your commercial property operates smoothly and safely.
Quality Workmanship and Safety
At JD Electrical and Controls LTD, we prioritize quality workmanship and safety in every project we undertake. Our electricians adhere to the highest industry standards to ensure that your electrical systems are installed and repaired correctly. We follow rigorous safety protocols and regulations in Goderich to provide you with reliable and secure electrical solutions.
Below is a chart outlining the effects an electrical shock can have on the human body:

Effects of Electric Current in the Human Body
Current
Reaction
1 Milliampere
Just a faint tingle.
5 Milliamperes

Slight shock felt; not painful but disturbing.

Average individual can let go. However, strong involuntary reactions to shocks in this range can lead to injuries.

6-25 Milliamperes (women)
Painful shock, muscular control is lost.
9-30 Milliamperes (men)
This is called the freezing current or "let-go" range.
50-150 Milliamperes
Extreme pain, respiratory arrest, severe muscular contractions.
Individual cannot let go. Death is possible.
1,000-4,300 Milliamperes
Ventricular fibrillation. (The rhythmic pumping action of the heart ceases). Muscular contraction and nerve damage occur. Death is most likely.
10,000-Milliamperes
Cardiac arrest, severe burns and probable death.
Source: W.B. Kouwenhoven, "Human Safety and Electric Shock," Electrical Safety Practices, Monograph, 112, Instrument Society of America, p. 93
Using Batteries Safely
Batteries are helpful devices for portable electricity but they can be dangerous if used or disposed of improperly. Lithium-ion batteries are the most common rechargeable batteries for consumer use and can be found in everything from laptops, to cell phones, to GPS Navigators and even in some cars! Although common, these little devices can cause bodily harm in ways such as burns, fires, explosions, respiratory problems and even death.
In light of this information we need to take the following precautions when handling batteries:
Never leave your rechargeable batteries in the charger once they've reached full charge; overcharging will not enhance the battery's performance and could actually damage it
Never disassemble a battery; the chemicals inside are toxic and may damage skin and clothes
Never have batteries in or near fire; they may rupture - this could also lead to an explosion
Never place batteries in water; they may rupture. Also, when the electrolyte inside the battery is combined with water, hydrofluoric acid forms which is a highly corrosive and toxic substance
Never charge batteries with a no-name brand charger or one that has been modified
Never charge a battery that has physical damage
Never use a battery in any appliance it is not intended for
Never throw batteries into regular garbage, dispose of them properly by checking with your area's battery recycling policy - otherwise they may enter the solid waste stream and contaminate soil and water

If you are looking for an electrician for either your business or home in Goderich, contact us today at jdelectrical.ca/contact or 519-525-7498 or click the live help button on our website for immediate assistance Mon-Fri 9am-8pm (EST). We look forward to doing business with you, Goderich!